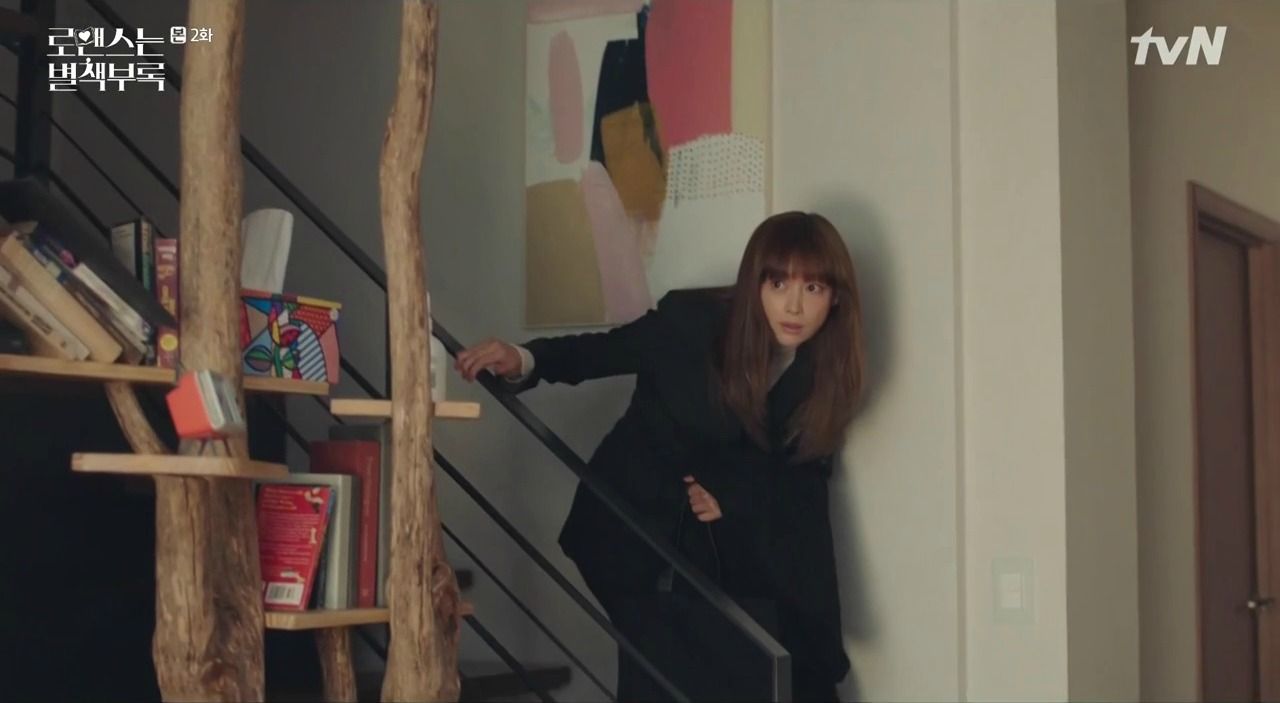 The Romance is a Bonus Book recap for January 27, 2019, features a new career woman, a tale of two childhood friends, and the secret house guest getting caught.
Kang Dan-i goes through her interview for a position beneath her experience level causing Cha Eun-ho to get mad. He questions her afterward asking why she would lie about having only a high school degree and if she's bored for applying. He tries to contact her husband and drives to their home which is now under construction. She finally tells him officially that her ex-husband cheated on her and they lost the house. She explains that her ex-husband went abroad with a woman, so she needs a job desperately regardless of if it's beneath her pay grade. While she waited to hear back from Gyeoroo about the Task Manager job, she is working part-time at a bathhouse.
Eun-ho runs late to an interview to discuss his latest Sci-fi novel, Little People. He made his debut back in high school with the web fiction series called The Bloody Contract. He remembers 10 years back when he first met the President of Gyeoroo, Mr. Kim Jae-min. The president persistently worked to recruit Eun-ho to join his one-man company. Eventually, it expanded, but the biggest reason behind Gyeoroo's rapid growth was the acquisition of Author Kang Byeon-jun's publication rights. Eun-ho gets very sensitive and makes an excuse to finish the interview when the topic of Author Kang Byeon-jun's retirement and disappearance gets brought up.
Dan-i receives the call that she's hired and joyfully accepts. She continues to live at Eun-ho's house without his knowledge. She rips up all of her old diplomas and career achievements as a means to start fresh. On Dan-i's first day of work, she meets Song Hae-rin, the person in charge of training recruits. Dan-i stood out at the company due to her age (37 years old) and outdated outfits. Eun-ho takes her to his friend's boutique to get her new outfits and to get a haircut.
Eun-ho remembers back to when he was a young boy that loved soccer and didn't like books. He was walking home from a soccer game one day and ran into the street to chase after his ball. As a car headed straight for him an older girl pushed him out of the way and got hit by the car. He felt guilty, but she happily laid in the hospital bed in a full-body cast. She told him to be her errand boy for the year while she recovers. Every day he kept her company and helped her flip pages to books that she read. His love for books and talent as an author appeared from meeting this eccentric girl named Dan-i.
Eun-ho hears some noises at night and walks around inside his house checking. Dan-i is running around hiding but ends up dropping a glass. Eun-ho spots her and asks if she's been living in his house. She looks at him surprised without saying a single thing.