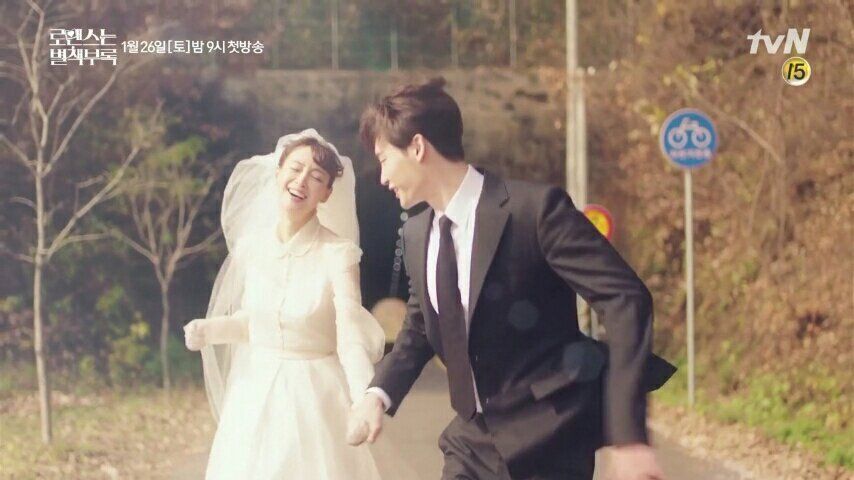 The Romance is a Bonus Book recap for January 26, 2019, features a runaway bride, divorce, and career restart.
Cha Eun-ho attends Kang Dan-i's wedding and plays the piano for her entrance. The bride disappears from the wedding and hides in Eun-ho's car. He finds her in his car as he's driving around looking for her. She tells him about her money problems and how she has nowhere to go. He asks her where she would like to go and he'll take her there to escape. After some comforting words, they hold hands and joyfully run back to the wedding. Dan-i remembers that moment they shared every time she encountered struggles in her marriage.
Fast forward present day, Dan-i is searching for a job after being a housewife for 7 years and divorced for 1 year. After her husband's business goes bankrupt and he cheats on her, he ends up leaving while she begged for him to stay. She's left with no home and no savings after paying for her daughter's academy education. It's frowned upon for women that take career breaks to return to the industry and she gets backlash from interviewers and applicants. Dan-i pretends to hire a housekeeper for Eun-ho but does the job herself. She's been eating and showering at his place during the day while he's at work. At night she goes back home to her abandoned old house that no longer has electricity or water. She wakes up one morning to see her old home being demolished and has to leave with her belongings.
Eun-ho is currently a successful author, Chief Editor of Gyeoroo, and professor. He dates often and doesn't believe in love or marriage. Eun-ho comes across Dan-I's resume in his printer and asks her about her job search. He still thinks she's happily married and her husband's business picked up.
While Dan-I was down on her luck drinking soju while walking in the rain barefoot, a drunk man grabs her. A kind stranger rescues her and offers her a pair of heels to wear. He wipes her feet with his tie and puts the perfectly fitted heels onto her feet. She realized that they were her shoes that she lost earlier that day. He happened to witness the incident and tried to return her shoes, but she was gone by then. She offers him her green onion plant as a gift for returning her shoes. He gives her his umbrella and runs off in the rain. Dan-i goes to Eun-ho's home and he tries to figure out what's going on with her. She asks to spend the night which makes him think she ran away from home or got into a giant fight with her husband. She tells him she has nowhere to go and that she's been divorced for over a year. He thinks she's lying because there's no way he wouldn't have known. While staying upstairs in his place she notices that his company is hiring a task manager that doesn't require a degree.
Eun-ho is one of the three-panel members holding interviews and notices Dan-I's application as she walks in for her interview.