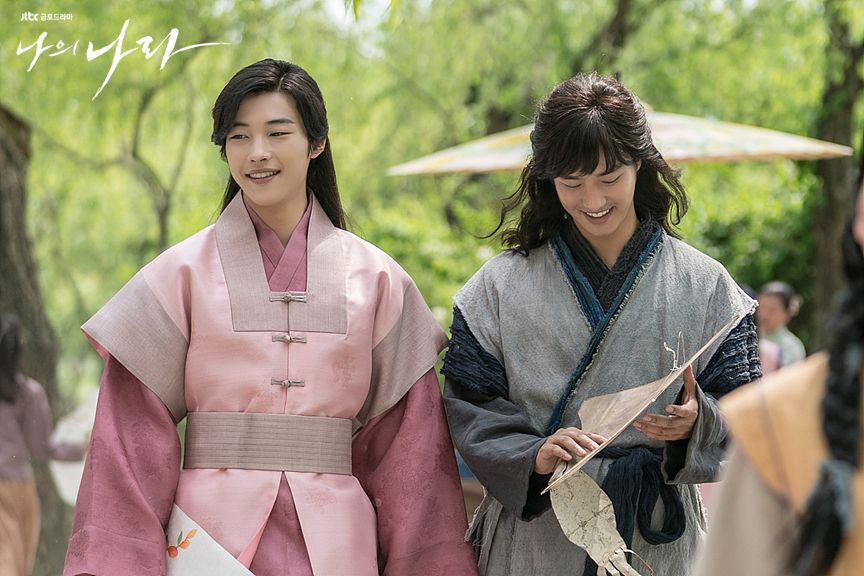 Who's in the cast:
Yang Se-jong as Seo Hwi
Woo Do-hwan as Nam Seon-ho
Kim Seol-hyun as Han Hui-jae
Jang Hyuk as Yi Bang-won
The My Country recap for October 4, 2019, features two close friends turned enemies during the transitional period between the Goryeo and Joseon dynasty.

The series opens 10 years into the future with Seo Hwi and Nam Seon-ho on opposite sides of the battleground. Nam Seon-ho is fighting to protect his father from being killed at the hands of Seo Hwi.

Rewind to a simpler time, Seo Hwi and Nam Seon-ho are friends training together in the forest. Despite their social class difference, the two are inseparable.

Seo Hwi is the son of the best swordsman of Goryeo, Seo Geom, who died honorably but was put in records as dishonorable. Hwi is a low-ranking member of society, constantly struggling to buy medicine and put food on the table for his sister..

Nam Seon-ho was raised in a wealthy household but has his struggles being the son of a concubine (mistress). His focus is to change his fate by becoming General Yi Seong-gye's sword and taking down the rotten kingdom of Goryeo.

Han Hui-jae is an intelligent, outspoken woman raised by kisaengs. Kisaengs are women from outcast or slave families trained to be entertainers for men of the upper class. She wants to be the voice to stop the war and prevent innocent commoners from losing their lives. While she was posting illegal posters slandering the king, she crossed paths with the two main leads.

Hwi and Seon-ho both try to sign up to take the military state exam. However, Hwi was rejected due to his father's dishonorable death. Seon-ho invited Hwi to a rare opportunity to participate in the Kangmujang hunting event. Seon-ho will accompany his father, Nam Jeon, and General Yi Seong-gye. Hwi managed to impress General Yi and was given an arrowhead that would allow him to sign up for the exams regardless of his background. However, Nam Jeon approached Hwi privately and ordered him not to turn in the arrowhead.
Seo Hwi and Nam Sun-ho jump kick their way through the exam sign-up doors and fight against all the guards before presenting the arrowhead to the rude guard that previously rejected him.